ACHTUNG!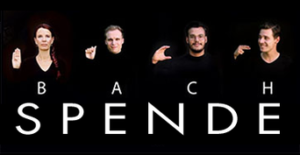 Barrierefreie Konzerte sind wesentlich teurer als nicht barrierefreie, deshalb sid wir auch auf finanzielle Unterstützung angewiesen. Wenn Sie uns unterstützen möchten und können, freuen wir uns sehr.
Kontoinhaber: SING & SIGN e.V.
IBAN: DE93 8605 5592 1090 2741 70
ATTENTION PLEASE!

Barrier-free concerts are much more expensive than non-barrier-free concerts, which is why we are also dependent on financial support. If you would like to and can support us, we would be delighted.
Account owner: SING & SIGN e.V.
IBAN: DE93 8605 5592 1090 2741 70