ATTENTION PLEASE!
Since we have financial difficulties due to corona-related concert cancellations and reduced funding, the execution of our follow-up concerts is uncertain. If you want to and can support us, we would be very happy.

Please click on the picture for your USD donaton by PayPal or creditcard. Thanks!
ACHTUNG!
Da wir durch coronabedingte Konzertabsagen und verringerter Förderung in finanzielle Schwierigkeiten geraten sind, ist die Umsetzung unserer Folgekonzerte unsicher. Wenn Sie uns unterstützen möchten und können, freuen wir uns sehr.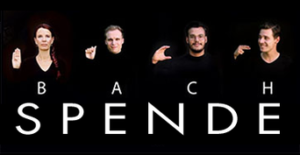 Bitte für  EUR Spende über Paypal oder Kreditkarte auf das Bild klicken. Danke!
Oder Direktüberweisung an:
Max Gläser (Management)
IBAN: DE09 10011001 2622 3915 48 (N26 Bank)
BIC: NTSBDEB1XXX